TVXQ Advance Level
This is where we get into the recent shenanigans which is all very messy and will have you studying international law. In the middle of one of their best years ever three of the five members took their management company SM Entertainment to court. This has caused some problem. What it boils down to. Yoochun Junsu and Jaejoong are now free to pursue their own projects and Yunho and Changmin are still willingly SM boys. This has caused unbalances in the group's dynamics. In Korea and the rest of Asia since it is all mange under SM is currently DBSK less. SM has basically stop DBSK activity until they get there way and the 3 member are not having it. So for the near future there is no planed DBSK activity. In Japan they are under Avex management and so Tohoshinki will go forward into the New Year. AVEX is completely behind Tohoshinki and already has activity lined up for 2010 including a new single out Jan 27, 2010.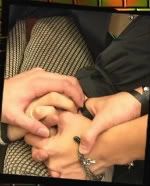 Throughout the legal battle and the battles of wills all five members of TVXQ have stated they wish to remain as five and the fans have supported them and we should keep Supporting them.
Keep the Faith .
One world, One Red Ocean , One TVXQ.
More in depth on the court case
And with that said we move on.
This is the character section. Now that you know all of TVXQ many names in Romanized it time to learn to identify their name in Korean, Japanese and Chinese characters.
Quick lesson.
Romanized:
is writing Korean/Japanese/Chinese character in English letters.
Hangul:
is the Korean written language or Korean Characters.
Hanja:
is what Koreans call the Chinese written language or Chinese character for a long time they use Chinese character now they mostly use Hangul but there are still Chinese words in use.
Kana:
is the Japanese written language or Japanese characters.
Kanji:
is what Japanese call there Chinese characters
Group name
| | | |
| --- | --- | --- |
| Dong Bang Shin Ki= | DBSK or DBSG = | 동방신기 (Hangul) |
| Tong Vfang Xien Qi= | TVXQ or TVFXQ = | 東方神起(Hanja) |
| Tohoshinki = | THSK= | 東方神起(Kanji) |
Member names
| | | | |
| --- | --- | --- | --- |
| Romanized = | Hangul = | Kanji = | Hanja |
| Yunho = | 정윤호 = | ユンホ = | 瑜鹵允浩 |
| Jaejoong = | 영웅재중 = | ジェジュン = | 英雄在中 |
| Junsu = | 시아준수 = | ジュンス = | 細亞俊秀 |
| Yoochun = | 믹키유천 = | ユチョン = | 秘奇有天 |
| Changmin = | 최강창민 = | チャンミン = | 最强昌珉 |
LIVE
Now that you have made it all the way here you are in for a treat. Here we will be focusing on the TVXQ as live artist. Unlike man of today artist who may sound good on their album but just okay or weak in concert TVXQ brings it lives just as good and some time better than there recorded stuff. When it comes to putting on a show sing and dancing TVXQ is always on top of it. If you really want to get an appreciation of TVXQ as live artist the best thing to do is buy their concert you will not be disappointed in anyway. For now here are some YouTube playlist.
Some notes before we get into the live vids.
Notes on the Live


I love Tohoshinki back up dancers I love them so much I will add a pg on them. They are really talented guys. Tohoshinki has had the same back up dancers for all 4 of their Japanese tours.


I despise DBSK back up dancers they suck almost all the time. They have lazy moves and aren't very good at anything not even standing. Unfortunately DBSK have had the same backup dancer for all 3 of their Korean/Asian tours.


Their concerts are a pretty good mix of fast mid and slow temp songs.


Their Japanese concerts are better than their Korean ones(in my opinion). The T tour is the tour that everybody should own just buy it please just buy it now.


They prefer to use the microphone that you hold in your hand. If they are holding the mics in their hand they are actually singing.


If they are wearing the headset microphones with the small mics they are not actually singing. They don't do this often and always for one of the fast songs like "O" or Rising Sun.


if they are using the headset with the big microphone they are actually singing. They use these more for the fast song if they don't use their regular hand held mics.


On to the Playlist
The Concert Intro + Opening songs
TVXQ has some stellar show openers for their live concert here they are in order of most recent to the oldest.


The Secret Code


Mirotic


T


Five In The Black


"O"


Heart Mind and soul


Rising Sun


For Dancing
There are 2 version of almost every song becuz I like them a lot…


Rising Sun(awesome version)


"O"(Japanese version)


Wrong Number


Purple Line(Japanese version)


Hey Don't bring Me Down


Breaking Up The Shell


Try My Love


Free Your Mind


Are You a Good Girl/Mirotic


Rising Sun (crazy old stupid young TVXQ version)


Purple Line(Korean version)


"O"(Korean version )


Mirotic/Hey Don't Bring me Down


The Ones To Break You
When I first got into TVXQ I was all about their faster paced song and then I heard
Bolero
and then
Love in the Ice
and now I am all about the song that rip you apart. I start of with the easy one here and build tot he really heart rippers.


Dōshite Kimi wo Suki ni Natte Shimattandarō?


Love In The Ice(Korean version)


Kiss したまま、さよなら


Bolero


Taxi


Proud(Yoochun cries)


Heart Mind and Soul


One


Begin


Love In The Ice (Japanese version)


Stand By U (short version)


どうして君を好きになってしまったんだろう?+ Bolero


Stand by U(Full version)


Love in the ice (because there are never enough version of this song)



Premium Mini Live
TVXQ held a mini live showcase and preformed there Trick sole stages.
The order is the order of their single release.



Changmin


Yoochun


Junsu


Yunho


Jaejoong


Live Extend Play
Dramas
Like many other Korean pop artists singing and dancing is not enough for TVXQ through the years they have release a few Dramas. The most widely know of these being Dangerous Love andVacation. I will give a complete list of their dramas and try to give links to where they can be watched.
Notes about Dramas



Vacation is the only Drama to have a soundtrack


All of the dramas are Korean and done in the early years the pre-Mirotic years you can call them


TVXQ Banjun Theater
Banjun Drama is a minidrama series that airs on Sundays as part of SBS's Good Sunday program. Each Banjun Drama is usually unrelated to previous dramas, unless it is split into parts, and generally has a small twist in the story at the end. Banjun Theater was a 7 episode project TV show TVXQ for SBS in 2006. Like other banjuns, each episode consists of a twist ending.
Tokyo Holiday
U-Know escapes from his manager, who has demanded that all of the members take a day to rest. Yunho meets a Korean tour guide and forces the girl to take him sight-seeing. At the same time, the girl's father gets into trouble and soon U-Know and the rest of the band are called in to save the day.
Dangerous Love
After a photoshoot in a secluded, forested area, all five band members are told to rest in the house they are staying at. Xiah, who desperately wants to play football, drags Max outside to play with him. Both get hurt and are rescued by a mysterious girl, who provides a place for them to heal from their injuries. However, they soon discover that she will not let them leave. Back at the main house, Micky is in his own world, extremely worried about his lost band-mates. Hero, after reading a fanfiction about his supposed romantic relationship with U-Know, becomes anxious about why U-Know is suddenly being extremely nice to him.
Finding Lost Time
Micky and Sung Min had been good friends since forever until one day when both stumble upon a beautiful girl, named Soo-Hyun, playing a flute. As a result of the time the three spend together, both boys fall in love with her. Micky decides to write a song for her expressing his feelings. However, when Micky is about to give her the music, he sees her giving a special gift to Sung Min. He decides to moves away and meets Soo-Hyun again many years later, who tells him that Sung Min is dead. Slowly, the story reveals itself.
The Uninvited Guest
Note: This takes place at the same time as Finding Lost Time.
Someone has deleted all the TVXQ's recordings so that they have to re-record everything. Soon afterwards, threatening letters appear, the boys' concert outfits are torn, and U-know's underpants are stolen. Together the boys must use the clues and solve the mystery.
Unforgettable Love
While U-Know happily goes on a date, Hero, Micky, Max and Xiah talk about their first loves, revealing mystery, humor, tears and danger.
The Masked Fencer
During a time of slaves and fencers in Ancient Korea, U-Know is the heir to a rich family and is to marry a rich girl; however, his fiancee loves someone else: Micky, the masked fencer. Micky works for U-Know's family and is also his best friend. After going through some events, U-Know discovers that his best friend has also fallen for his fiancee and becomes furious, developing a plan to separate the two.
First Love
Micky and U-Know both fall in love with the same girl at school, Jun Hye Bin, and must fight for her love. Who will she choose?!...Synopsis taken from Wikipedia
Vacation
Vacation was TVXQ show. It only ran for 4 episodes so I don't really consider a TV show more like a miniseries but it called a TV show whatever.
Cassiopeia
U-know has been getting letters from a fan, Soo Yun, who has leukemia. Her dying wish is to meet him one day so he goes to visit her at the hospital during his vacation. Then a final note came and said Soo Yun died. Too make sure he went to the hospital but, he lost his words after seeing Soo Yun playing with the other kids at the hospital. Soo Yun says she lied for Jung Ah unnie who is hospitalized at the same hospital. She starts asking U-know to hold a concert for Jung Ah's birthday who got bedridden due to a car accident...
After the concert U-know goes outside to have a rest with Soo Yun. During that time Jung Ah falls out of her wheel chair and gets better. After the Vacation at the hospital U-know goes back to his company but soon he gets a phone call saying that Sooyun is dying! He later finds out she has leukemia!
Beautiful Life
Xiah and Max goes to the countryside, highest point in the country and where there is only 23 people to avoid people in the city. As soon as they arrive Xiah bumps into a old elderly man who was an mailman. Due to Xiah's accident Max becomes an mailman and delivers mail all day in the countryside. While delivering mail Max runs into a old elderly woman. While Max was working Xiah was going bathroom on a Nondulyung and got caught by a countryside girl, Young Shim. What will happen in that small countryside village?
The Way U Are
Jae Joong was buying a ticket to go on a trip when suddenly he got dragged by some gangsters and got beat up. Jae Joong had no idea why he was getting beat up and the only thing he heard was the name Chang Shik. With the help of Mang Chi he avoids the dangerous situation. Mang Chi shows a picture of Chang Shik to Jae Joong, who looked exactly like him. Chang Shik was working as a waiter at a nightclub and ran away with the owner's money. In order to get out of the nightclub Jae Joong pretends to be Chang Shik and meets Chang Shik's girlfriend, Mina, who is a nightclub dancer. Jae Joong hears shocking information about Chang Shik from Mang Chi...
Will Jae Joong be able to return as TVXQ's lead vocalist Jae Joong / Hero?
Eternal
Micky who hurt his shoulder during the concert rehearsal, visits a beach village where he lived for a while when he was a child. Coincidentally he meets a boy with the same name as his, Yoo Chun, and a girl named Jin Joo, whom Yoo Chun likes. Micky tries to help little Yoo Chun to get closer to Jin Joo but it's no use. While taking a walk on the beach Micky discovers a MokGak doll that little Yoo Chun hung on Jin Joo's neck. All of the memories he had forgotten from April 1994 had all come back. For a moment he lost his words due to the shock. What happened in April of 1994? Synopsis take from DramaWiki
Fan Club
TVXQ has the largest official fan club in the world according to the
Guinness World Book Of Records
. They have more than one fan club. They also have an official color.
Official Korean Fan club: Cassiopeia
Official Japanese Fan club: Big East
Official Balloon Color:Pearl Red
Cassiopeia is the fan club that made it into Guinness but from what I have been able to fine Big East is better to the fan club members. A lot of Cassis (Cassiopeia members) spoken up about the lack of services they received for being members. But it seems SM is pretty shade with all their Fan clubs. This does not stop the Cassis from being the most hardcore fan club ever seriously these dudes are behind TVXQ 250% all the time, ever time. If the moon was required for TVXQ to be happy the Cassis with some help from Big East would get it divided it into 5 equal parts and gift wrap it for them.
Cassiopeia through SM has a time when international fan are allowed to join but I have the slights clue when that would be.
Notes about Fan club


The five members are the first official members of Big East.


Cassiopeia is a star configuration and if you spell out TVXQ on a keyboard you form it.







Award section


The complete list of their awards will be in the link at the end of this section this is just a fast overview.


TVXQ is a part of the Hallyu wave which is Korea trying to extend their pop culture throughout Asia. They are one of the biggest artists in the Hallyu wave. They are massively popular all over Asia and have won many awards. But it is their work in Japan that stands out. Japan is a hard market to crack not many Korean artiest make it over there many have tried (Rain) and I won't say failed but they did not really make much of dent. TVXQ has shattered the wall. It took a lot of work. They went from being big stars in Korean to nobodies in Japan . They worked their way up from the bottom starting from scratch. It took some years and 2 albums but it is paying off. With their 16th single Purple Line TVXQ became the 5th non Japanese artists and the first male foreign group to hit number 1 on the Oricon charts. With Beautiful You/ Sennen Koi Uta they became the second non Japanese artist to have two #1 singles on the Oricon charts. With Dōshite Kimi wo Suki ni Natte Shimattandarō? They became the first non Japanese artist to have three number one singles on the Oricon chart. They went on to have four consecutive #1 singles. They currently have six #1 Japanese singles. On New Year Eve 2008 TVXQ attended the Kōhaku Uta Gassen Music Festival in Japan making them the first Korean group to do so. In early Jan 2009 Mirotic sold 502,837 copies making TVXQ the first artist in Korean to sell more than 50,000 CDS in six years. On July 4th and 5th they became the first Korean group to have a concert at the Tokyo Dome which is a big deal. They did two nights sold out shows at Tokyo Dome which holds about 55,000 people. All 4 of their Korean album have debut #1 on the Korean charts.
For a list of their awards