TVXQ
This is the last main section. Here the focus is more on the fan reaction to TVXQ. But Big East Station their radio show will also be covered here as well as UFO reply. This is where I will put the Quiz when it gets done as well as the visual TVXQ time line. There is also a brief introduction to fandom. Here also lies the fandom mini dictionary. There will be links to some fanvids and as well as a fanart slide shows.
Big East Station
UFO Reply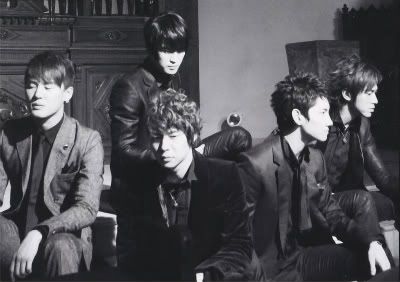 Fandom
Fandom is a big boundless thing that drives me crazy on the best of days. I am not the best of people to explain it so I will have to find someone else to do it. I will define a few words and term you might need when venturing into the world of TVXQ real person fanfiction and fan vids.
Slash :
The five member of TVXQ can be paired up in many different variation the act of pairing them together or pairing any two male together is called slashing.
Het:
If you want to read about the five member fall madly in love with a girl you are looking for het fic which is short for heterosexual fanfic and I can't help you there.
Gen :
If you want to read fic about the boy as a group with no romance involved you are look for Gen fic short of General .
OTP :
Stands for One True Pair. This is the pair that you love/believe in with all you fandom might. It can be add to as in OT3 One True Threesome or in the case of TVXQ OT5. Personal I don't think an OTP has to be sexual/romantic in nature but most OTPs are.
Common LJ slang:
some word and there means you might come across in you fandom searches
As stated above TVXQ member can be matched up in a numerous number of couples. And they have official names. Here is the list. The blue links lead to a Playlist for each pairing to there couple talks from season 2 and 3 of All About TVXQ.
YunJae
Yunho and Jaejoong this is one of the more popular pairings.
YooJae
also known as Soulmate Yoochun and Jaejoong another popular pairing.
YooSun
Yoochun and Junsn
JaeMin
also known as Soulfighter Jaejoong and Changmin.
HoMin
Yunho and Changmin.
JaeSu
Jaejoong and Junsn
MinSu
Changmin and Junsn
YooMin
also know as Kiss Changmin and Yoochun
HoSu
Yunho and Junsu
YunChun
also know as 2u Yunho and Yoochun
Fan Art